Noodle Machine
Classic hand-operated pasta machine ;
Produces dough in various thickness fixed double cutter 2mm & 6.6mm;
Fettuccine and Tagliolini.
| | | | | |
| --- | --- | --- | --- | --- |
| ITEM NO. | QTY | G.W./N.W. | CTN MEAS | QTY/20' |
| 173(150mm) | 6pcs | 20/18kgs | 58.5x22x29.5cm | 4800pcs |
| 183(180mm) | 6pcs | 23/21kgs | 62x26x30cm | 3600pcs |
GK-1 household press noodles machine introduction

Operation instruction:

Clamp the noodles machine tightly to the edge of a dough preparation board. Put warm water into flout (approx .5:2) in a basin, a proper amount of salt and soda may be added to the water. If egg noodles are to be made, egg may be added at the same time, mix them uniformly.

Cut the dough into small slices (about 10mm). Spread a little of dry flour on them, Insert each slice into the flat rollers and rotate crank handle.

Adjust the regulating knob in order. NO.1-5steps make noodles.NO.1-6 steps make sheets of dough for ravioli.

This machine is equipped with rough and fine cutters for noodles, which can be used optionally.

The width of the sheets of dough is 155mm; Fold the sheets of dough to make ravioli.

This machine should be cleaned with a brush or a piece of cloth after use. Do not rotate the crank handle in the opposite direction when making sheets of dough and noodles otherwise the machine parts may be damaged. Oil regularly the rotation parts to keep them lubricated.

Features of the machine:

It is operated manually and does not use electricity .It is reliable and economical .It can be operated safely and reliably by a normal member of a no or a little supply of electrical power or supply is of ten interrupted. Persons doing fieldwork and small restaurants can also use it.

It is fast and persons in operation, thus time can be saved .The designed capacity of this machine is 5 kg noodles hour .It only 10 minutes to have fresh noodles ready for 3-5 servings.

It has high power and efficiency with multipurpose .In addition to making rough and fine noodles, The machine can also be used to make small square dough sheets, sheets of dough for a variety of boiled, steamed and backed dumplings and ravioli with uniform shape and thickness.

Noodles and dumplings made by this machine have good tastes and special flavors. Noodles made by this machine are as smooth and soft as those made manually, very tasty.

It is compact, light and right, this machine is made of imported materials and chrome ¡§Cplated metals with unique and nice-looking shape .It are in good taste and pleasing to the eye, bright, clean and hygiene.

PACKAGE INSTRUCTION

Name:pressure noodles machine Color: stainless steel color

weight G.W/N.W:4.0kg/3.12kg

measure(mm):46*19.5*26.5(length*width*higth packing (table):4 table

150-1 Noodles Machine¡¡

150-1 noodles machine operating instruction

ONE general introduction:

Gingerking brand small type rotary hand noodles machine has more than twenty years history .The product's specification and type are completed ,the quality of products is top ,which were trusted by the consumer and well sold to here and there of the whole country and export to Asia ,Africa Europe etc countries and zones.

The series of products' volume is small ,efficiency is high ,operating can save force ,which fit on the old and the young ,suppress the way of handmade which making noodles' that tradited club overtaking and sword cutting .The noodles that made by this machine is best than the quality of noodles which made by the carge type noodles machine .Which the selected ,thin or thick can be regulated ,silk cover's fibre is strong ,toughness is good ,enter the mouth is smooth ,fresh ,beautiful and tasty ,etc character .The same time which can roll the noodles cover ,noodles leaf, wonton cover ,jiaozj cover ,cutting cracker piece ,and so on fact it is necessities of household.

The cutting sword includes square noodles, round noodles, one sword, two function, all kinds of specification are completed, which can buy and order according to the living habit of place and the needs of consumer.

The structure of machine is all metal, strong and durable, roller adopt electroplate processing, light and beautiful, hygiene and antirust.

If your craftsmanship is good, you can be quiet at home, relax and satisfied to enjoy all swords of self-made unique special flavors nutrition noodles, self-made all different kinds of place special flavors snack, bring into play creation ability, enjoy family warm in common, treat cordially close and good friend, which you will have a proper sense of pride or dignity.

TWO operating instructions:

Installation: clean antirust grease at position which touches with foodstuff, fix the noodles machine at the wood stool or kneading table which fits on operating, install funnel, refuel lubricating oil at transmission position,

Rolling noodles piece: mix wheat flour and water up according to 10:3 proportion to flock, and then take into noodles cloak, 100-1 type, hand pole intercalate into roller long axle pin, 100-2 type, 145-1 type 150-1 type, 150-2type.150-3 type 160-1 type, 160-2 type, 160-3 type no press cutting sword, 120-1 type rocker arm to inner clench the teeth with inner gear wheel, clockwise rotate, adjust roller tail end stoppers (each side stopper?¡¥s relax and tight at the same), the clearance armory the roller is more and more smaller ,the noodle?¡¥s cover from thick to thin ,repeatedly do it and then roll to noodle?¡¥s piece ,the thickness or thinness of noodle?¡¥s cover spends on stopper regulating .

Cutting noodles: 100-1 type hand pole move to cutting sword long axle pin, 100-25 type, 145-1 type 150-1 type, 150-2 type, 150-3 type, 160-1 type, 160-2 type, 160-3 type install cutting sword, (100-2,150-2,145-3,160-3 type cutting sword you select). 120-1 type rocker arm to outer to cutting sword axle pin (anti-clockwise roll), load the fitting noodles cover to cutting sword to roll, then roll into noodles.

145-1 type, 150-4 type, new 150-4 type, 160-2 type all these are one sword, two functions, the noodle?¡¥s width or narrow should adjust the adjusted screw on the cutting sword.

THREE matters needing attention:

Refuel edible lubricating oil at the axle usually.

stick to near tight scraping cutter and roller at the below of roller ,prevent from roller paste the surface ,keep comb gear at the below of cutter pasting the trough feed of cutter ,prevent the noodles tilting ,must it toll the other way round when cutting noodles to avoid break downing the thickest comb .

Strictly forbid iron filings or hard impurity infiltrate into noodles piece or drop into inner, in order to avoid break-downing parts.

After using it, clean cinder noodles by the brush, cover dust clothing well.


HL-56A type hafnium & chromium machine
| | |
| --- | --- |
| | |
HL-56A type hafnium & chromium machine operating instructions
Improved structure HL56A type hafnium & chromium machine which our factory produced ,which has all functions of HL56 type hafnium & chromium machine ,but the strength is higher than HL56 type ,gear rack is flat gear rack ,the wear-resisting life-span is longer than HL56 type ,and also has one machine ,several functions ,Save time ,save force ,volume small ,weight light and so on characteristic.
ONE function: able to press buckwheat noodles ,carrot stuffing ,potato starch ,noodles made from bean or sweet potato starch etc.
TOW method:
1.revolve relax adjusting screw 7, remove activity bear frame to fit on the size of pot .

2. drop the gear rack 1 to the lowest position ,for pressure bead touch kneading table ,lock tight limited position silk circle 9,avoid to overstepping position when completing to press the cover.

3. keep pressure pole 3 at the diagrammatic position revolve hand pole 2,to raise the gear rack 1 to the highest position.

4.move noodles tubular product 4 to dotted line position ,to load the pressure foodstuff.

5.revolve the original position when the pressure foodstuff have been loaded.

6.revolve the hand pole 2,to drop the gear rack 1 to the pressure foodstuff unit there's no space .

7.help the hand pole 2 up from the ratchet reversing ,wave the pressure pole 3 above & below to press the foodstuff.

8.rotate out the part NO.6,and to clean the noodles tubular product and kneading table .

9.able to modulate the chain.
Size:450¡Á250¡Á370£¨L¡ÁW¡ÁH£©net weight 6.9kgs£¬pipe diameter 56/mm
Household noodle making Machine Introduce


This machine is made of imported material,full metal chrome plated,compact structure¡¢ beautiful and dignified,shine and hygiene,multifunction,it can press thick & thin noodle¡¢ dumpling shell¡¢steamed stuffing bun¡¢Ravioli shell Multi flour foods,tidiness structure, equal thick and thin,they are the good helper of modern families.

¡¡HO-188
Outer package size(cm):
¡¡50¡Á21¡Á31
Weight(KG/CTN):
¡¡18
Inner package(PCS/CTN):
¡¡4

¡¡HO-156
Outer package size(cm):
¡¡48¡Á21¡Á31
Weight(KG/CTN):
¡¡15
Inner package(PCS/CTN):
¡¡4

¡¡HO-150
Outer package size(cm):
¡¡48¡Á21¡Á31
Weight(KG/CTN):
¡¡14
Inner package(PCS/CTN):
¡¡4
Slice & Vermicelli Machine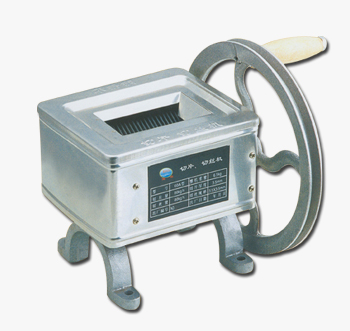 ¡¡HO-60A
¡¡Slice quantity£º
¡¡80kg/h
¡¡Thread quantity£º
¡¡40kg/h
¡¡Weight(KG/CTN)£º
¡¡7
¡¡Width of slice£º
¡¡3.5mm
¡¡Thread specification£º
¡¡3.5x3.5mm
¡¡Outer package size(CM)£º
¡¡22x18x22(cm)
¡¡Inner package(PCS/CTN)£º
¡¡1